I am craving for something sweet after lunch! I' ve got the munchies, I' ll grab something sweet! We did well, a dessert would be a great reward! I' m about to be on diet and this is my last dessert. Desire, need, reward, right. A dessert may represent something different for each of us. In any case, it is a cherished habit that ideally pairs our coffee, a motivation or even a tiny sin, without which our lives would be somehow dull and flat. But how could things be otherwise, when the very procedure of consuming a sweet is a small ritual that satisfies our sight, smell, taste and boosts our psychology?!
From the moment that our pupils are dilated to the relish flooding in our taste buds, sweets deserve every single second of anticipation and their calories of course! We, at Coffee Berry, know well how much you love delicious and quality desserts, made of premium materials. This is why our stores provide you with a full, refined and tasteful galore of treats to satisfy all your taste preferences. From plushy muffins to soft cookies melting inside your mouth, and from handmade chocolate bars to colorful donuts of so many tastes, we know… it won't be that easy to choose. But when you solve the pleasant brainteaser of what you should pair your coffee with, be sure that your pleasure will firmly prevail! We present you our sweet treats, but the choice is yours!
Our top 6 Coffee Berry sweets
1. Muffin: delicious and fluffy
Treat yourself with the fluffiest muffins, in super delicious and special flavors!
Chocolate muffin filled with white chocolate
Chocolate muffin filled with praline
Salted caramel muffin
Vanilla muffin stuffed with chocolate and chocolate chips
Red Velvet muffin
2. Donuts: colorful and mouthwatering
Colorful and mouthwatering donuts stuffed with rich creams, in many flavors to choose your best
Hazelnut chocolate
Praline & chocolate crullers
Cookies – praline
Cinnamon
Sugar-sprinkled donut
Beignet with hazelnut praline
Beignet with Bavarian cream
Pretzels – Croissants: the sweet perfect match for your coffee!
Our freshly baked buttery and delicious croissants & pretzels are the absolute match to your beloved coffee. You may choose among:
• Butter croissant
• Croissant filled with hazelnut chocolate
• Mini butter croissants
• Mini chocolate croissants
• Chocolate pretzel
• Custard cream pretzel
4. Soft Cookies: loved and soft
They are so soft and yummy that they will become your favorite habit from the moment you try them. Available in three hard-to-choose flavors:
• Vanilla soft cookie with chocolate chips
• Chocolate soft cookie with white chocolate chips
• Oat soft cookie with cranberry
5. Handmade chocolate bars, the heartwarming dessert
Made of pure ingredients and passion, our handmade chocolate bars are the dessert to drive you to a new luscious destination. Find your favorite flavor at any Coffee Berry store:
• Milk chocolate
• Coconut-flavored chocolate
• White chocolate
• Orange-flavored chocolate
• Dark chocolate
• Cappuccino-flavored chocolate
• Lemon-flavored chocolate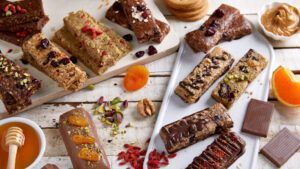 6. Handmade cereal bars that satisfy our need for sweet
The ideal choice for those who want something tasteful and energetic to vibrantly kick-off their day or to recover from a tiring day at work or a demanding training.
• Red fruit
Chocolate
• Fruit and nuts (with stevia)
• Pistachio
• Antioxidant-rich (gluten-free): peanut butter, honey, buckwheat, almond, cranberry, cocoa, bitter chocolate
• Superfoods: peanut butter, honey, oat, rye flakes, barley flakes, almond, cranberry, linseed, goji berry, sunflower seed, apricot
• Mixed nuts & milk chocolate: peanut butter, honey, oat, almond, walnut, hazelnut, Aegina pistachio, sunflower seed, pumpkin seed, macadamia, pecan, Brazil nuts, pine nuts, blanched almond, roasted chickpea, milk chocolate, apricot, cranberry
• Protein rich (with stevia): peanut butter, honey, oat, cocoa, Aegina pistachio, goji berries, walnut, bitter chocolate with stevia
• Aegina pistachio & cranberry (vegan): natural date, cranberry, Aegina pistachio, almond
• Almond and orange: almond butter, honey, oat, orange zest, bitter chocolate with stevia, almond, blonde raisin, cinnamon
• Tahini and honey: tahini, honey, oat, rye flakes, Aegina pistachio, walnut, goji berries
• Espresso and chocolate: peanut butter, honey, oat, espresso coffee, cranberry, almond, bitter chocolate
• Bitter chocolate and cranberry: peanut butter, honey, oat, walnut, cranberry, bitter chocolate
• Peanut butter and orange: peanut butter, honey, oatmeal, orange zest, walnut
• Digestive with Aegina pistachio: Aegina pistachio butter, honey, oat, Aegina pistachio, cranberry, sugar-free digestive cookie
• Protein rich with cocoa: peanut butter, honey, cocoa, oat, Aegina pistachio, goji berries, walnut
Which is your very best sweet that will make your day? One thing is sure, that you' ll enjoy it at Coffee Berry stores!