Coffee is an integral part of our daily routine. From early in the morning before going to work, until afternoon or even night hours when relaxing with our friends. To us, however, coffee is more than that; it's our art and our ultimate goal is that you enjoy premium taste through a new and unique experience.
Is it actually a new experience? Of course it is, because Coffee Berry never stops introducing novelties in the coffee market. But let's actually get to know what Coffee Berry stands for.
Coffee Berry – the expression of the 3rd wave of coffee in Greece
Relying on our expertise, we create a unique concept firmly based on the principles of the 3rd wave of coffee and the contemporary everyday needs of consumers.
What we truly want is to provide our customers with true Specialty Coffees and an extraordinary coffee experience. Our expertise and 20-year experience prove in practice that to us, Coffee is Art!
The Coffee
Coffee is our subject-matter and we could not, of course, discount its quality. We give a new interpretation to the Interactive Coffee Culture, enabling our customers to choose among the top varieties of the world (Kenya, Ethiopia, Costa Rica, Guatemala and other selected origins).
We get the coffee beans from unique places word-wide. This is how we assure not only top quality but also uniqueness of our products.
Coffee may be either produced with the most traditional means or by using the state-of-the-art methods introduced by the coffee industry of today.
The Place
Being loyal to our goal, that is offering you the best and most easy-going coffee experience, each Coffee Berry store is an integrated Street Café Concept.
Our stores are smartly and contemporarily designed, with industrial, yet warm, ambiance. You can feel the coziness the moment you step in and we are sure that it will become your new favorite place!
Coffee Berry stores keep spreading in Greece and abroad and we recently celebrated our 200 stores in Greece, Cyprus and Egypt, while soon enough our 1st store in Saudi Arabia is expected to open its doors.
Coffee Berry and the others
Just visit our stores and live the Coffee Berry experience at its best! In addition to the premium specialty coffee that you may enjoy either for Take-Away, Delivery or in suitable packs for home/work, we provide a complete product mix that makes Coffee Berry an all-day destination, not only for coffee! As we said, Coffee Berry will become your new daily spot.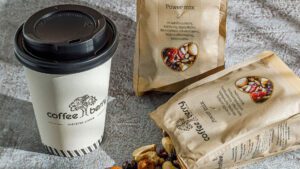 Choose among our nuts and dried fruit, vegan and sugar-free products, superfoods, chocolates, selected tea varieties and snacks. Their exquisite taste and undisputed quality will make your mouth water. This is another aspect that makes the Coffee Berry stores so unique and distinct withing the dynamic food & coffee market.
Finally, our baristas' mastery is certified by the prominent Specialty Coffee Association of Europe – SCAE, ensuring that each Coffee Berry store offers the same top quality refined coffee.
Coffee Berry generously shares its expertise and experience as a mastering coffee company. The only thing you have to do is come to a Coffee Berry store and become a part of this one-of-a-kind experience, giving-in to our mesmerizing scents and flavors.
We are waiting for you!