When it comes to tea, aromas and flavors from different varieties, combined with fruit, dried flowers and herbs emerge from a Coffee Berry cup.
Odors and perfumes
If you want to enjoy the beneficial properties of tea and herbs, relax, boost yourself or take delight in a luscious beverage, we've got you!
Feel free to taste our great variety of black, green, rooibos (red) and white tea and beverages, hot or cold, available at all Coffee Berry stores. Each one is slowly extracted using the largo method at a specific temperature, which takes 3-4 minutes and releases all the flavor and aromas of each drink.
Do you want something cold? The Sparkling Iced Tea series is our refreshing option, combining herbs, fruit and soda, sugar-free and sweetened by agave syrup.
ENGLISH BREAKFAST
Robust black tea for breakfast. Enjoy it either plain or with milk and sugar.
EARL GREY
Ceylon black tea, combined with natural bergamot essential oil, offers the most popular aromatic tea.
SENCHA
Light tea from Sri Lanka, soft-flavored and ideal to pair light meals.
GREEN DE CASSIS
Green tea mixed with strawberry bits and red berries. A tasty option with strong aroma and intense aftertaste.
ROOIBOS
Red tea with coconut flakes, apple, chocolate drops and caramel notes.
OASIS C.B 100gr (DESIGN 2023)
A combination of white, green and black tea, infused with cinnamon, orange peels, almonds, lemongrass, orange & rose blossoms.
RED SUNSET
Bits of apple, grape, strawberry, blossoms of hibiscus, chamomile and rosebush calyxes. Caffeine-free.
GINGER - ORANGE
A combination of apple, hibiscus blossoms, carrot, ginger and citrus petals, with delightful orange aroma, all from organic farming. A unique caffeine-free beverage, with robust taste and strong aroma.
AYUVERDA
Raisin, lemon balm leaves, rosebush calyxes and blossoms, fennel, cardamom, chamomile blossoms, mint, sage, nutmeg, all from organic farming. Organic farming
TROPICAL PASSION
Petals of hibiscus and rose, grapes and bits of pineapple, mango and papaya. An exotic caffeine-free beverage.
Sparkling Iced Tea
Sparkling Iced Tea- the cool-breeze refreshment.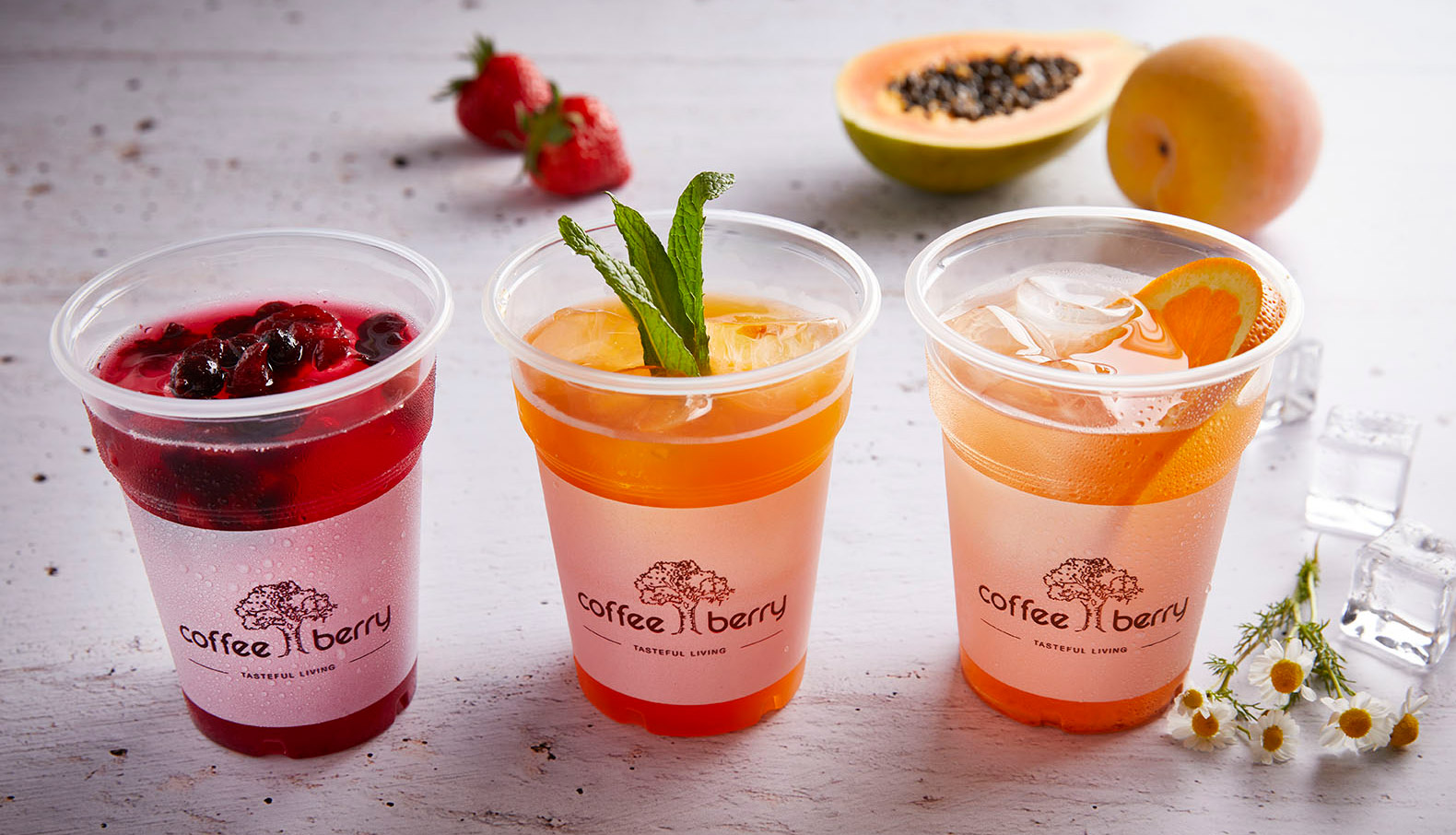 Red Sunset
Red Sunset (a combination of herbs and fruit, mixed with apple, hibiscus, grapes, rosebush calyxes, chamomile, strawberry), agave, soda & berries
Tropical Passion
Tropical Passion (a combination of herbs and fruit, mixed with hibiscus & rose petals, grapefruit, pineapple, papaya, mango), mango pulp, agave, soda & peppermint.
Ginger Orange
Ginger Orange (a combination of herbs and fruit, mixed with apple, citrus petals, hibiscus blossoms, carrot, ginger), peach syrup, agave, soda & orange.